The theory of designing for the senses is one that has been around for decades, but it has seen a resurgence in recent years.
Sensory design as an approach has consistently evolved over the years, and a recent boom in product customisation, new developments in technology, and a demand for integrated spaces means that our five senses may all now be considered during the design process.
Each of our senses holds the key to our mood and behaviour, and brands are seeing the benefits that can come from implementing an integrated sensory design strategy.
In an omnichannel world, multi-sensory environments can create more than just a place to shop or stay; these can be places where the customer can fully experience a brand, gain a 360-degree view of the offering, and better discover how a brand aligns with their identity and lifestyle.
So what effect can our senses have on our spending habits?
Sight
As designers, we are always conscious of how the visual aesthetics of our surroundings can influence us. An awareness of the psychology behind colours, layout, lighting, and style is paramount in ensuring that customers have the desired emotional experience.
According to research by Zen Merchandiser, 92% of people regard the 'visual elements of a store the most important when purchasing products' - so getting this part right is non-negotiable.
Establishing the right colour palette is a vital part of this process, and using colours which are evocative of a brand is about more than just following brand guidelines.
For example, Boost juice bars use a bright and 'zingy' palette, which evokes freshness and vibrancy - something that translates to the customer how their products aim to make you feel.
Meanwhile, a brand such as Harrods aims to suggest luxury and decadence, so uses gold and a vintage script font for their logo. The sight of this hints at indulgence and opulence, lets consumers know what the interior environment will be like, and puts them in the right mindset to spend money.
Touch
Encouraging consumers to interact with an environment in the intended way can be influenced by texture and tactility - things such as furnishings, flooring, fixtures, materials, etc.
These elements play a big part in influencing our mood and perceptions of a brand: thick carpet or smooth marble, soft leather, warm hardwood or cool granite? Each choice says something different to the consumer and elicits a different response.
The Body Studio at Selfridges in London is full of comfortable seating, wooden fixtures, and luxurious product lines of silk and lace - it intentionally separates itself from the packed London streets outside its doors and even the rest of the department store.
Here, customers enter and are immediately soothed by their surroundings, which can make them much more open to spending £100 rather than £20.
Even in situations where a purchase is not the end goal, for example a hotel, the positive emotions that come with feelings of relaxation and comfort will create the kind of attachment that promotes brand loyalty and encourages us to come back or recommend it to others.
Catering to our sense of touch in retail environments also aids customisation services, and allows customers to play a more active part in their purchase.
The new Jaguar Land Rover x Rockar store in Westfield Stratford is a good example of this, as it features a 'create' space, which includes colour swatches, examples of interior trim and samples of the interior choices available, where customers can enjoy the tactile nature of the experience, and literally 'feel' the luxury of the product.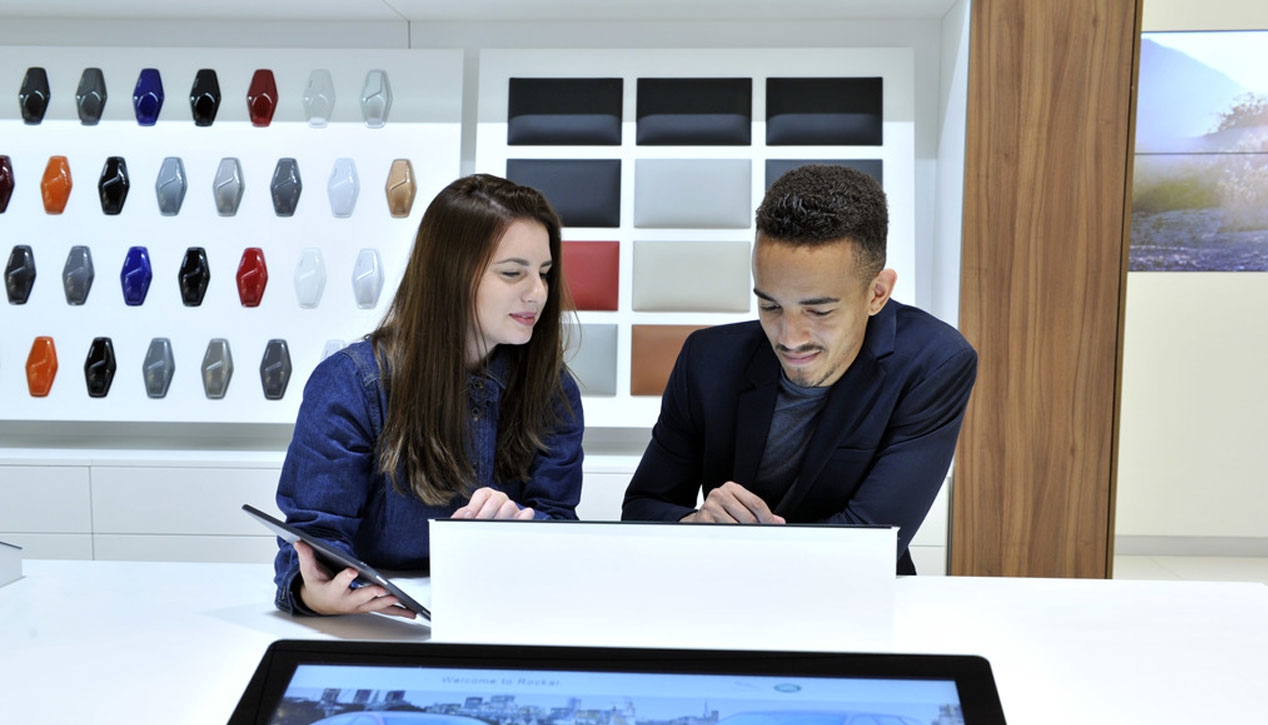 Taste
The inclusion of taste in interior design comes easily to a hospitality environment, where food/drink is part of the offering. Supermarkets, such as Booths and Waitrose, and high street retailers such as Thornton's, all offer free samples of their latest product range as you walk through the store - it's part of the experience.
But incorporating taste is being seen on the high street more frequently, not just in food retail, but as part of fashion, leisure and lifestyle environments, too. This can include a cafe being integrated within an environment, or an accompanying food/ drink offering being sold in the space.
The Body Studio hosts an in-store cafe, Hemsley & Hemsley. As a healthy lifestyle brand dedicated to well-being, its addition supports the store's desire to relax, pamper and indulge its visitors.
Adidas' recent partnership with Brooklyn juicer Grass Roots for their NYC flagship store enabled customers to purchase a raw snack or freshly squeezed juice in-store - a partnership which was ideally suited to a brand such as Adidas, who aims to promoting fitness.
Sound
The use of sound in interior design usually comes to us through background music, but it can also mean the addition of sound effects. Especially in today's world, digital displays and signage often include moving images which can utilise sound to augment the brand experience.
For their 5th Avenue store, Hollister Co - a division of Abercrombie & Fitch - introduced an audio visual projection system, which displays a live feed of the waves at Huntington Beach in Southern California across the storefront's glass windows.
The video projection is accompanied by an audio soundtrack of the waves crashing on the shoreline, with a video of a lone surfer paddling out to sea. This tempts passers-by inside, as if they could be in California themselves.
Inside the store, video walls play the same live feed to continue the experience alongside the merchandise.
Smell
Environments such as coffee shops and bakeries have always been able to lure people inside with the smells of freshly ground coffee or baked bread, and some retailers are now attempting to mimic this effect with artificial smells, specifically placed to add another dimension to the shopping experience.
Our sense of smell has the ability to trigger memories or make our mouths water, and is also a great tool to reflect the available product choices, like we see with perfume brands or chocolatiers. Whether a smell is natural or artificial, being able to effectively harness it can hold great potential for the creation of an emotional attachment between consumer and brand.
Lush stores are renowned for their natural aroma of the many soaps and toiletry products which they have on offer; as the product itself is often purchased because of its smell, it makes sense that the stores should make every effort to maximise this benefit.
A different type of approach is seen at the M&M's World store in London's Leicester Square, where an artificial chocolate scent is piped into the store.
As the products are wrapped in plastic (which stifles their natural odour) Mars/ M&M's have cleverly tapped into our tendency to make impulse purchases - particularly for sweet treats - when we're feeling indulgent.
The Mars/ M&M brand team aren't alone in this thought process either; at Retail Design Expo earlier this year, we attended a discussion on the future of retail design, in which the discussion turned to multi-sensory design, and smell in particular.
Alan Taylor, Head of Retail Design at B&Q, revealed that their team had trialled an artificial scent of freshly cut grass to complement their selection of lawnmowers.
With companies like ScentAir, who currently have 2,400 fragrances in an ever-growing library, there is endless opportunity to create a 'branded' scent, no matter what sector you're in.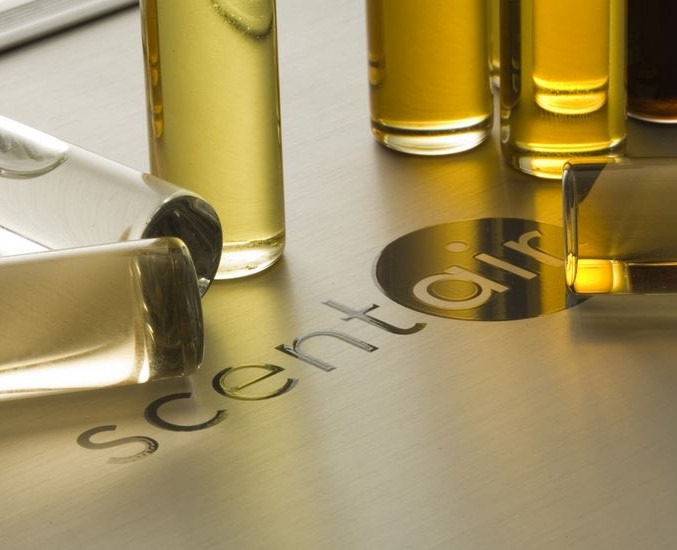 Many brands, like the ones we've mentioned here, are already creating spaces that intentionally use sensory design - but we can look forward to a not-so-distant future where interior design will consistently integrate each of the senses into a brand experience, to meet the needs and appeal to all target audiences.
When done right, this could be the key to rejuvenating the high street shopping experience - by creating an environment that really appeals to customers on every level.