Robert Brownjohn was a graphic designer whose career peaked during the 1960s, best known for the creation of the iconic 'Goldfinger' credits.
"What is graphic design?"
"I am."
It's not often that the design world produces a legend that could be compared to a rock and roll star, but Robert Brownjohn - the debonair drug addicted designer - definitely fits this title.
His extravagant fast-paced lifestyle was parallel with his art and design and his highly innovative ways of working.
Described as 'so cool even the Rolling Stones wanted to hang with him,' he was a highly ostentatious character who was known for demanding the highest wages and who spent his spare time socialising with an enviable medley of rock stars, fashion designers, models and actors - unsurprising as it was said that he had 'an aura of brilliance' around him.
He suffered from a heroin addiction which probably contributed to his early demise at the young age of 44. Despite his career being cut short in this way however, he had achieved in 25 years what most designers fail to do in a lifetime.
'The true artist is the grindstone of the sense; he sharpens his eye, mind and feeling; he interprets ideas and concepts through his own media.' - Lazlo Moholy-Nagy, Vision in Motion
Brownjohn studied at Chicago's Institute of Design between 1944 and 1948 and by the age of 22 he was a professor of design, who freelanced for clients as big as Pepsi Cola, Columbia Records and the American Crafts Museum.
Brownjohn's working life was short but intense - it is thought that over the course of his career he completely redefined graphic design into what we know it as today, moving it from a formal into a conceptual art.
He believed that if an idea couldn't be easily described over the phone, then it wasn't clear or simple enough to work. His goal was to create design that would solve a problem, both formally and conceptually - not just to make things pretty.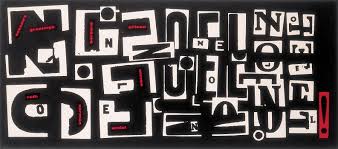 'B.j set up the projector, everyone filed in and sat down. B.j turned off the lights, took off his jacket and shirt, and waffled in front of the titles from the lit projector. "It'll be just like this, only we'll use a pretty girl."
Although Brownjohn's collection of work was extensively successful in many areas, most would agree that the highlight of his career was creating the opening credit sequences for James Bond movies 'From Russia With Love' and 'Goldfinger.'
Goldfinger in particular is counted as his most famous and iconic piece of work, and it has been celebrated by graphic designers and film audiences worldwide.
His work on these two movies also set the tone for every Bond film to come afterwards - the use of female silhouettes and the iconic gun barrel imagery has since become the hallmark of James Bond movies and is recognised universally.
When creating 'From Russia With Love', Brownjohn was given a modest budget of £850 with which he hired a room, a camera, a projector, and a belly-dancer. He projected 2D words onto the body of the dancer and another model as she moved in front of the camera and filmed the result.
When 'Goldfinger' went into production, he demanded that his budget be increased to £5,000. This time he projected 3D moving images (footage from the movie) as well as words over his female subject - model Margaret Nolan, whom he'd painted gold head-to-toe.
He then filmed the results as the classic Shirley Bassey song blasted in the background, and voila - we had the gold standard of film credits made to this day.
In some way, these title sequences took their own place as a short but highly creative cinema piece with it's own version of the narrative - almost a mini Bond movie. It was seductive, thrilling and was the first of its kind to pass the film censor despite it's sexual suggestiveness.
'He showed young British designers that creative endeavour could be reconciled with an almost Bond-like lifestyle.' - Sam Delaney