Our latest interior design project for our hospitality client, Bourgee, has opened in Chelmsford.
After 8 months, we have completed the new Bourgee Restaurant in Chelmsford, Essex - one of four restaurants in 'The Exchange', a newly developed, pedestrianised area fronting the main entrance of the recently refurbished High Chelmer shopping centre.
The area is shared with Carluccios, Turtle Bay, Cote Brasserie and Jamie's Italian nearby.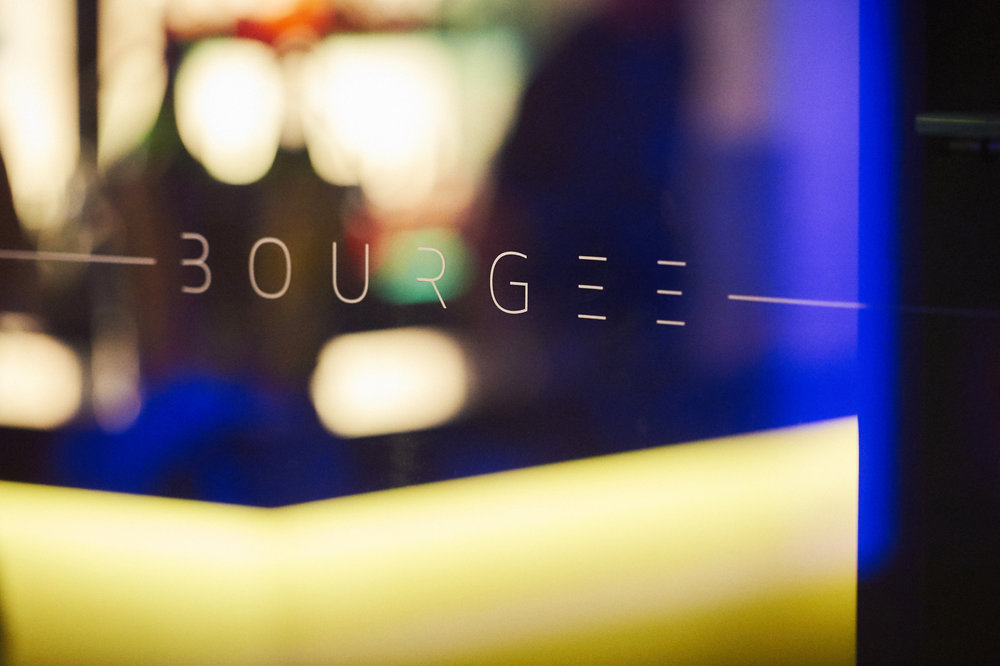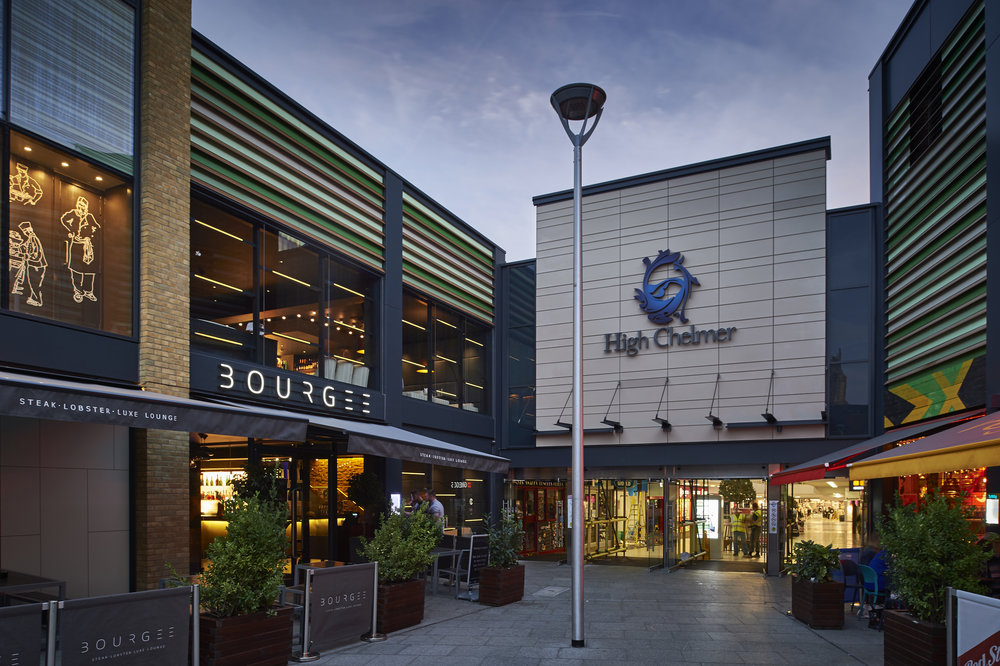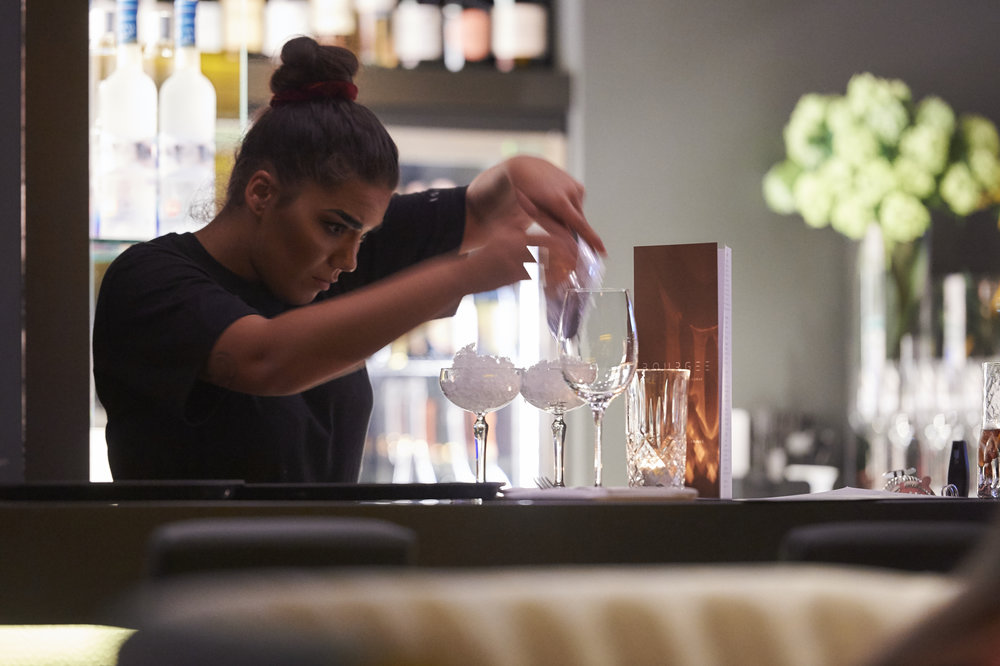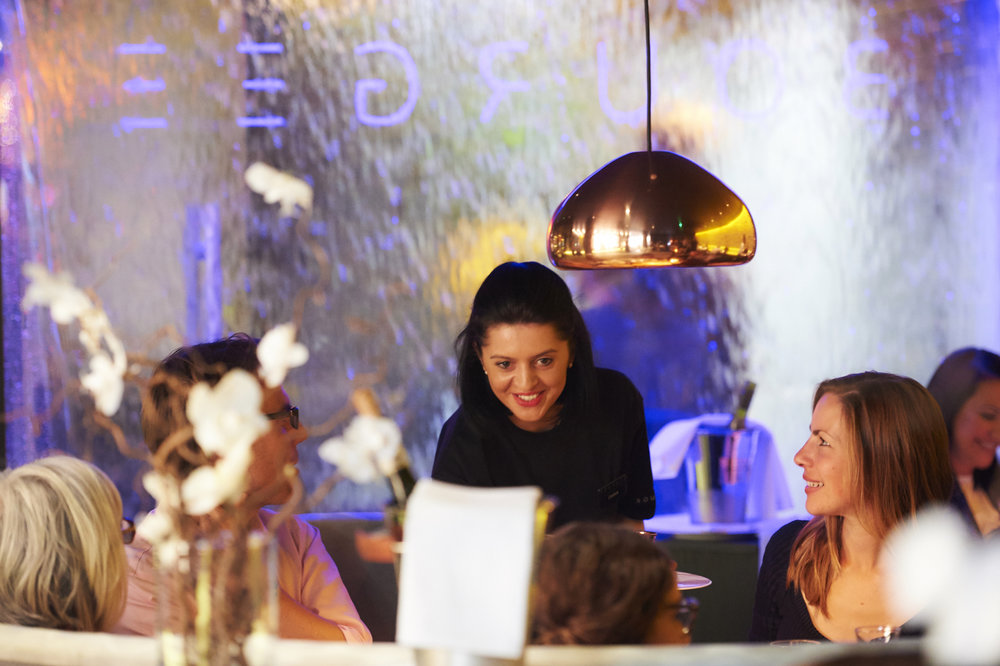 The two-storey space was received as an empty shell, with only a ground-floor shopfront and incoming services.
During the initial space planning process, we decided to create a two-storey restaurant, making it unique to the area with its neighbours occupying only ground-floor spaces.
This necessitated very careful space planning to incorporate bars on both floors, dumb waiter vertical connection and a new, relocated feature staircase, whilst retaining the essence of the original Bourgee Restaurant in Southend-On-Sea which we designed back in 2014.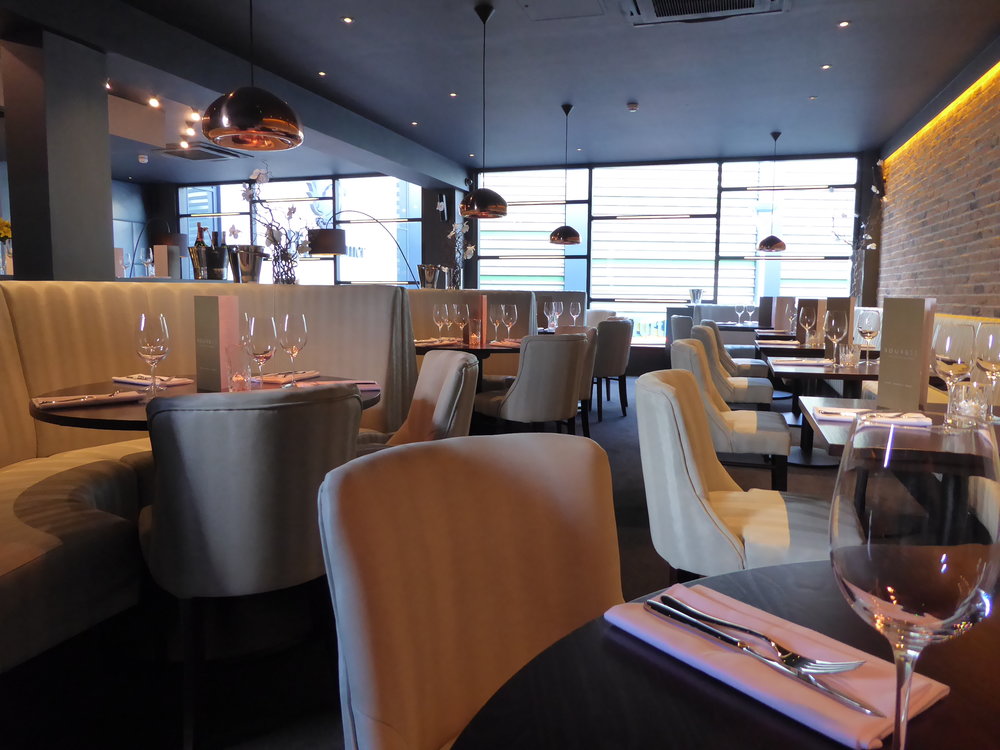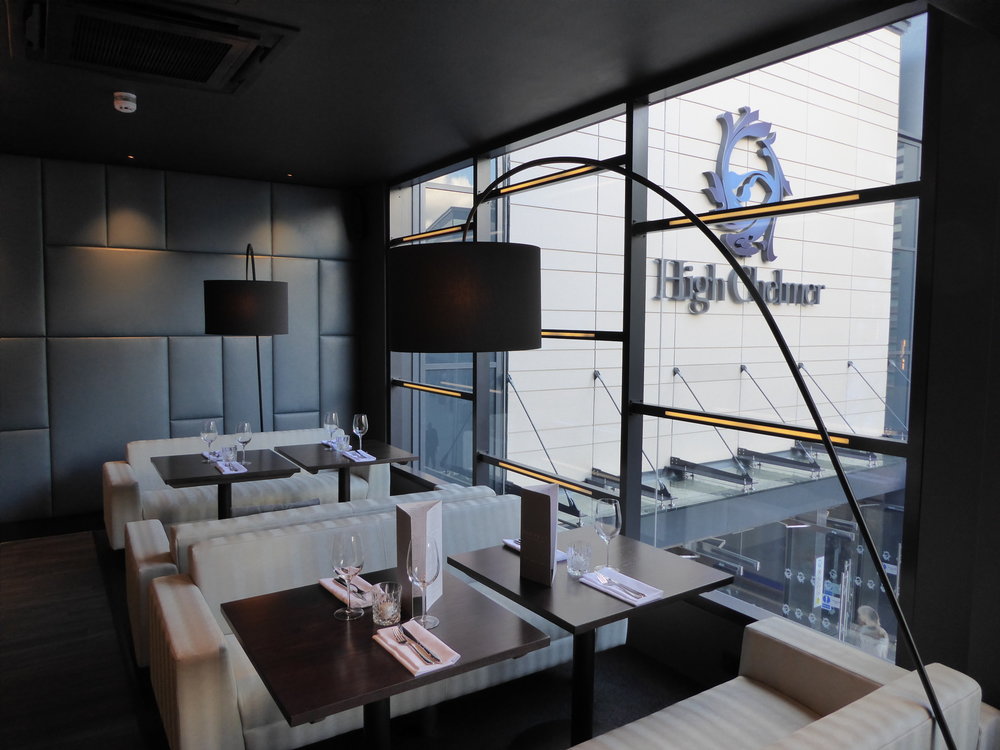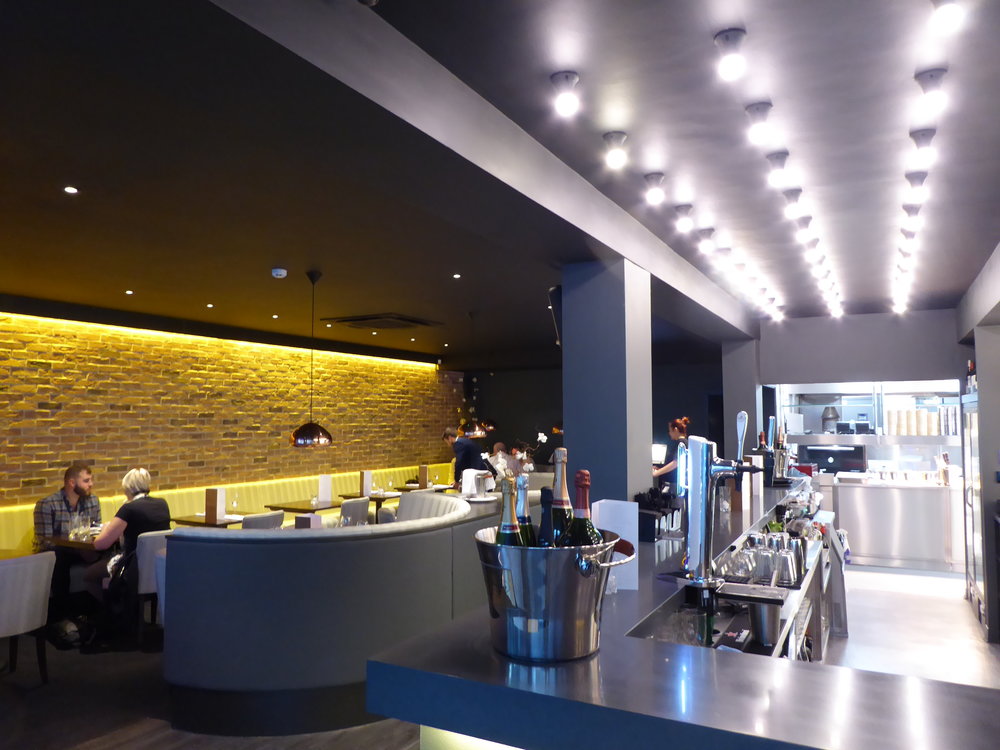 The kitchen, staff area and toilet block are all sited to the rear of the ground floor, allowing a similar bar and restaurant layout across both floors.
We included elements of repeated design such as golden lit brick slip clad walls, feature wallpapers, straight and semi-circular banquet seating, grid lighting over the bars and a feature 'water wall', also taking on a variety of new bespoke designed elements to add to the 'affordable luxury' Bourgee ethos.
These elements included a bespoke linear lighting sculpture which we added to the interior of the glazing - a nod to the 'E' within Bourgee's branding, which we also created the concept for. This feature adds a dramatic effect at dusk, when the internal and external facing light strips are visible.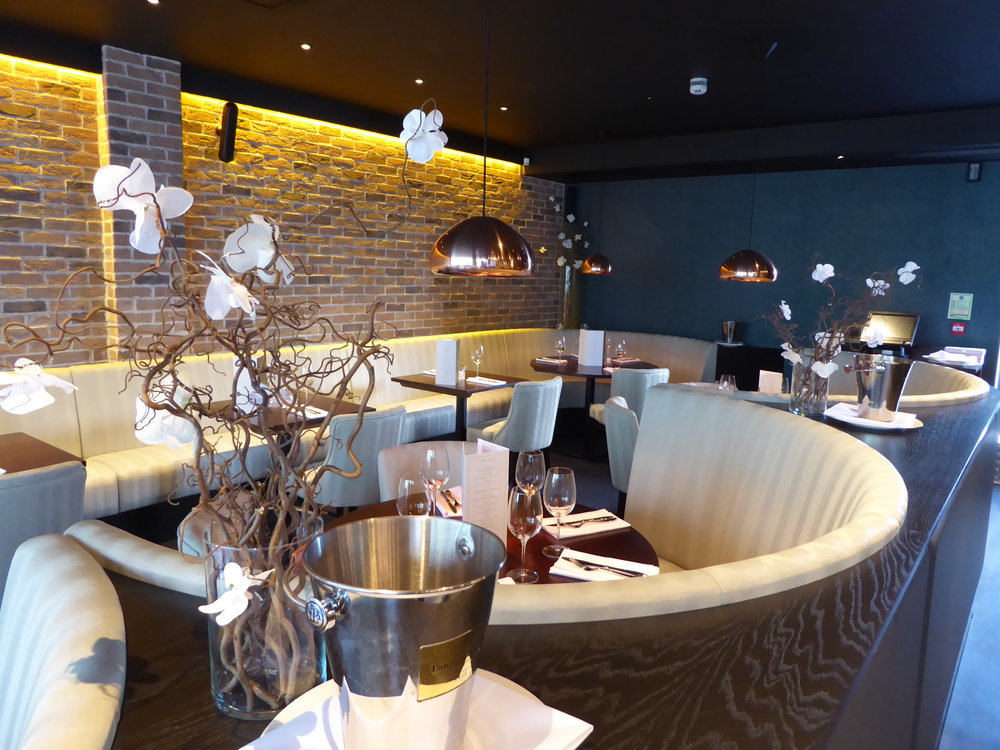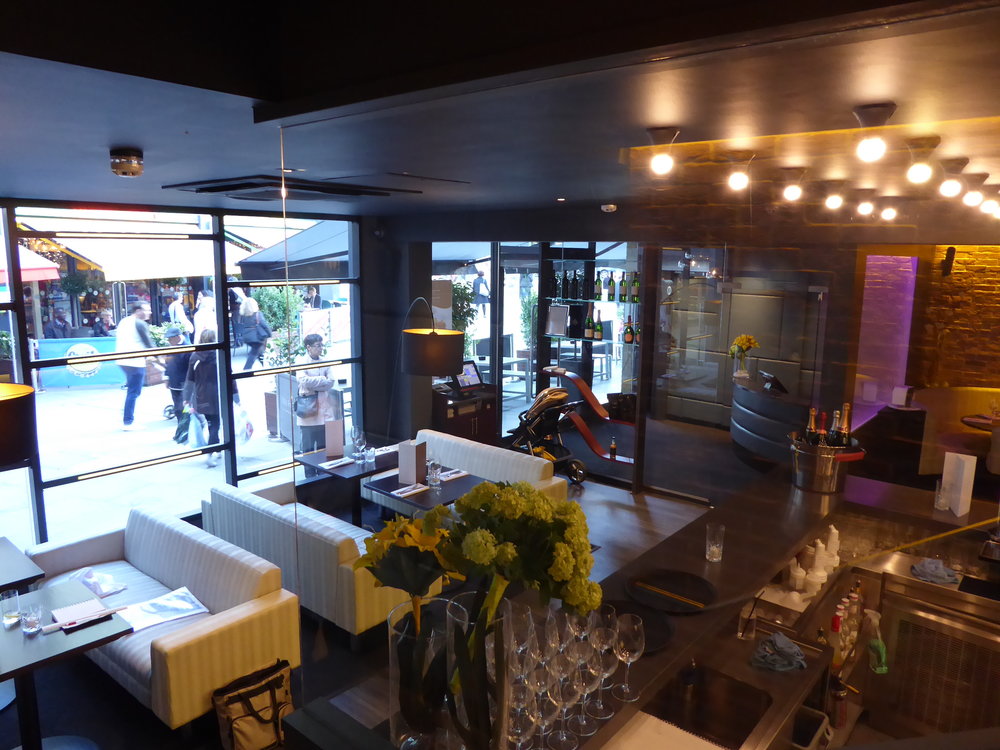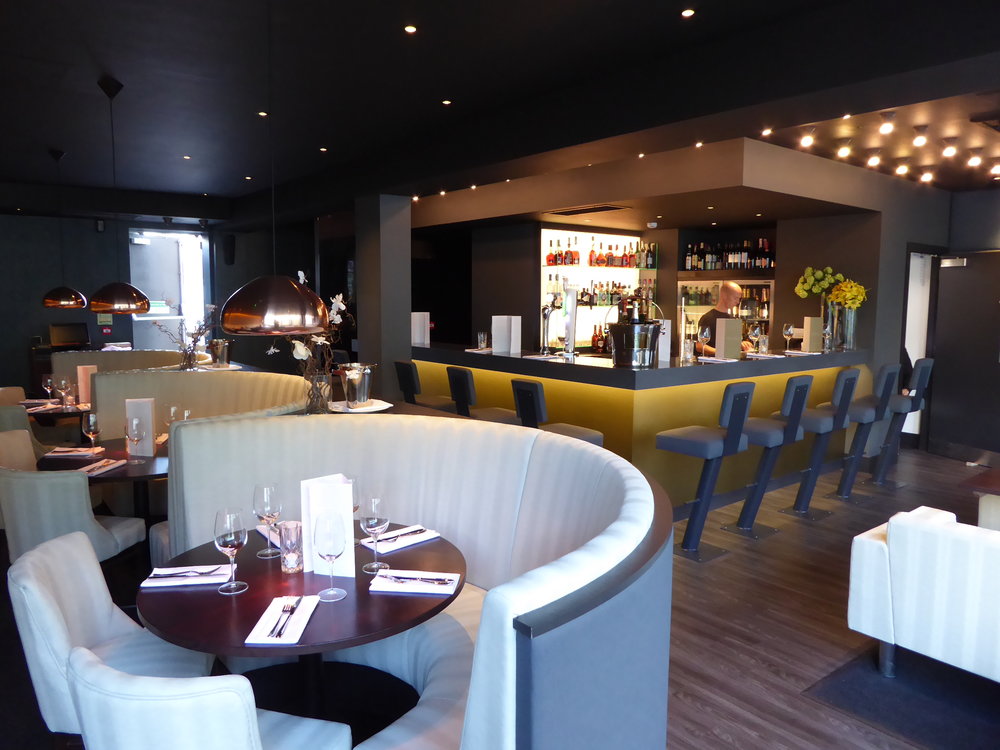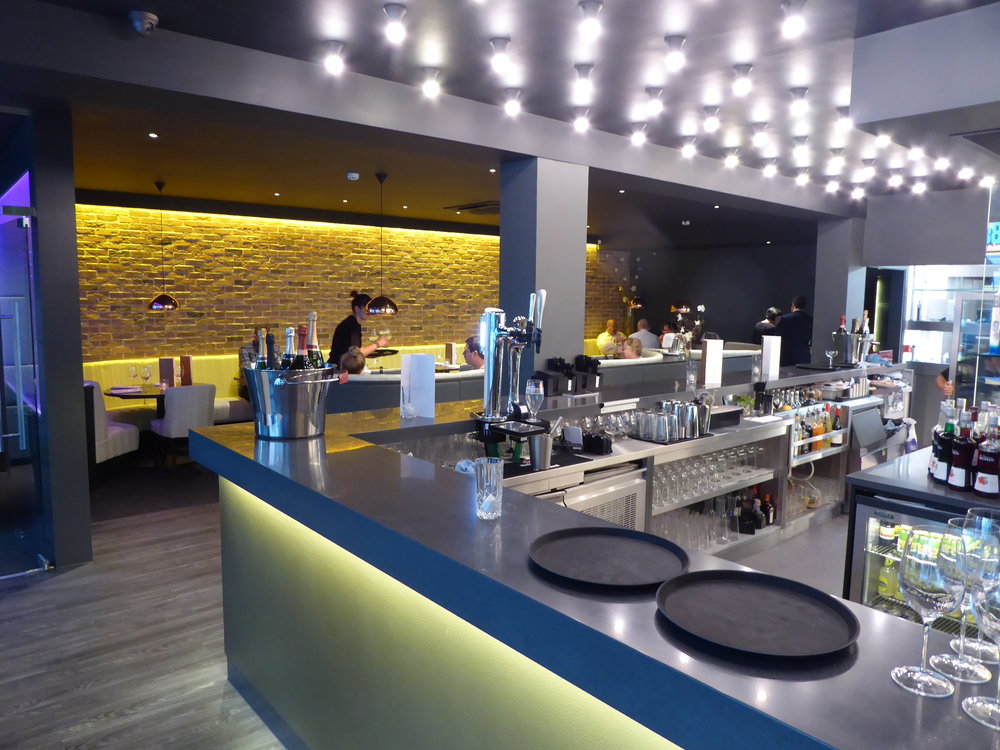 We also developed a new upholstered wall concept, which has since been retro-fitted into the reception lobby at Bourgee, Southend.
This design was also added to the three sliding doors of the cloakroom cupboard, and also to the front of the counter in the reception lobby.
The staircase features hidden lighting, giving off a 'Bourgee Gold' glow, and the front-of-house lighting consists of hidden LED systems with dimmable controls and the option of a coloured light settings to the back bars.
The sleek, internally illuminated external signage, made up of individual letters, sits over the entrance doors above the awnings, which extend over the outdoor seating area.
We are pleased to say that we have also been approached to design a new Bourgee Restaurant in Cupola House - a grade 1 listed building constructed in 1693, in the heart of Bury St. Edmunds.
This new restaurant is due for completion in early 2017, along with other potential developments to come in the ever-expanding Bourgee portfolio.